We offer professional video production and
photography services in Sydney.
We are an experienced video production and photography agency based in Sydney.
We produce impactful, brand-driven videography and photography. Whatever your vision, we have you covered.
Our Video Production and Photography Services
Video Production and Photography
Through engaging video production and photography Think Creative produces visual storytelling that drives audiences to action. Seamless communication allows us to uniquely convey your brand or product's story, to produce videos and photos that showcase originality.
Whether it's corporate videos, animation, testimonial or promotional videos, we consistently produce engaging videos powered by a marketing strategy that delivers results. We are experienced at creating impactful and shareable videos that capture your vision for the product or brand and resonate with your target demographic. Professional and well-executed video production and photography ensure your clients spend more time on your site or social media platform, helping you inspire and connect with audiences. They are also an indispensable tool for increasing your reach, attracting new clients and boosting brand awareness across multiple platforms. Here at Think Creative we are passionate about producing thoughtful video content that reflects your brand DNA and calls your customers to action.
Effective, attention-grabbing videography and photography that drives business objectives and generates sales are all possible with our inventive thinking.
A simple yet effective way to convey your message, using either 2D or 3D formatting. Animated videos are an engaging medium to illustrate your ideas from concept to tangibility creating a visual impact with clients through colour, shape and audio.
Business presentation is critical to your organisation's success, so create a lasting first impression with corporate photography. Corporate photography that showcases your individuality as a business through striking visual imagery, helping you portray brand image effectively.
Create a lasting first impression with clear and cohesive messaging that effectively communicates with clients. Corporate videos are a professional and impactful way to increase customer engagement, generate leads, and build your business's reputation.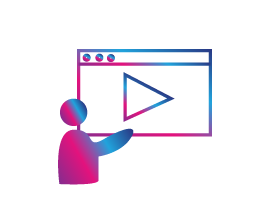 Easy to interpret, visual aids that take some of the trickier concepts and translate them for your clients. Explainer videos increase user engagement by providing customers with insight into your products/services through immersive details and product features.
Product launch videos are a customer's initial impression of your product. Through the tone and style of your video, clients interact with the possibility of purchasing your product. Convert prospective into loyal customers, through our team's unlimited creativity that delivers visionary content and stunning results.
Compelling promotional videos that showcase your product in a memorable light. Increasing exposure levels for your product allows for new and exciting opportunities for your business. Think Creative prides itself on illustrative, engaging videos that highlight your organisation's brand language, tone, and image.
Help your customer tell their story, and communicate your business message with integrity and understanding through our testimonial videos. An effective and easy way to amplify your company's image through firsthand and measurable experiences.
Videos that inspire and build confidence ensuring a cohesive and singular message is delivered to your employees. Training videos refresh knowledge and provide easily tailored concepts to create lingering impressions within the employee's mind. An easy way to provide an investment in the future of your business.
We are passionate about creating engaging, memorable, and professional videography and photography that is tailored to your audience and reflects your vision
Video Production Agency Sydney
Our Videography and Photography Projects
A selection of our video and photo projects.
Department of Education Animated Videos
Lawcover Brand Identity Devlopment
Need help with video production or photography? From notion through to production, we'll help you navigate the process.