Use social media
to showcase your brand
& drive sales.
Use social media to showcase your brand & drive sales.
A social media agency to take your business to new audiences on social.
Social Media Marketing Agency
Think Creative Agency is a social media marketing agency in Sydney. All our staff are based in Sydney and our team of social media experts are skilled across all social media platforms.
Social media refers to a selection of digital technologies which enable the building of social networks and allow communication and sharing of content with others. The current biggest players in the social media landscape are Facebook, Twitter, Instagram, LinkedIn, YouTube, Pinterest, TikTok and Snapchat.
Worldwide there are approximately 3.5 billion social media users and this number continues to grow. In Australia 80% of people use some form of social media, so whether you are a social advocate or no, social media marketing needs to form an ingredient in your digital marketing mix.
Social media activity works in conjunction with  SEO, PPC, Email marketing to raise awareness of your brand, brand offerings and assists in driving traffic, leads and sales for your business.
Think Creative offers a full range of social media services. We can become your full service social media agency or assist you with a selection of smaller offerings, campaigns or projects.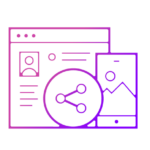 Need a helping hand working out which social media avenues to invest your time and effort? We can put together a comprehensive plan of action based on the business goals you are focusing on and the target audience you are trying to engage.
Once you have a strategy, you will need to populate it with regular engaging and inspiring content. Creating a content calendar will help you achieve your social media goals quicker and easier. We can develop videos, images, blogs, infographics, competitions and more.
Organic traffic is traffic generated through posts that reach audiences through unpaid promotional activities. Unless your brand has a massive following on social or your post goes viral, this organic reach is limited. Therefore businesses use paid ads on LinkedIn or Facebook, YouTube and IG to ensure their message travels wider and reaches greater audiences.
Once you have a following and audience who engages, reacts and comments on your content you will need to ensure you are managing this and responding to enquiries and feedback appropriately. At Think, we can take on board your brand voice and respond accordingly.
Messenger Apps and Messenger Marketing
Social media messaging is growing exponentially and so is this as a form of personal-based individualised marketing. Whether it be through Facebook Messenger or WhatsApp messenger businesses are taking up messenger marketing rapidly.
This takes on a variety of forms but simplistically it involves influential persons endorsing your products. It also includes an ambassador or advocate who promotes your products to their followers.
 A great way to generate brand awareness and customer engagement and leads on social media is through running competitions. We are experienced at developing online competitions and can assist from idea inception through to landing pages and promotion.
Are you launching a new product or service and require assistance generating interest via social channels as part of your overall marketing launch strategy? We can plan and execute effective launches across social platforms.
Social Media Agency Sydney
Our Social Media Projects
A selection of of our social media and digital projects.
Aspen Medical Social Media Recruitment Campaign
Durotank Digital Marketing and Website Build
Sydney Timber Social Media and Website Build
Okkular Social Media Marketing
Property Council Academy Digital Marketing
Felton Industries Product Launches
Want to learn more about Social Media Marketing?
What social media platforms does Think Creative use?
Which social media platforms should your business use?
This primarily depends on your target audience, some networks favour younger people, some are B2B focus and some are all-rounders. Here is our summary on the current most popular social media networks

Facebook
Although labelled as an older generational social media tool, it is still heavily used by young people especially for messenger, events, & to be part of sports or social groups. Facebook offers a lot on the social network and is the ultimate all rounder

Twitter
Want to know what is making the daily headlines?  This is the forum that provides all the information on what is trending and debates the topics of the moment. Small and succinct tweets can speak a thousand words.

LinkedIn
Not to be missed by B2B! Grow your connections and followings, start fostering one-on-one partnerships with key players in your industry. Develop your reputation as an industry thought-leader and advertise on Linkedin to get in front of your key audiences.

YouTube
Doubling as a social media and a search engine giant, this video platform is an opportune place to get in front of millions with your brand and advertising.

Instagram
It's all about the look! Image is everything and this social media channel is where millennials dominate. Business is big and many consumers will find their products, follow businesses and take part in competitions on Insta.

Pinterest
Although a more niche social media channel where people go to research ideas and inspirations, Pinterest offers great exposure for your brand to showcase what you have to offer.
Snapchat
If you are trying to reach Gen Z or teens, Snapchat is your top option. Based on messaging with a photo, it is a fun-filled app that allows teenagers to keep in touch at every moment!
TikTok
Tiktok is a social media app that originated in China and revolves around creating and sharing short videos. It was formally known as musical.ly and is especially popular with audiences for its challenges
What to expect when Think Creative runs your social media marketing
Know your business know your social
We listen intently and take an indepth look at your business so we can recommend and implement the best social media marketing for your organisation.
Key to success is having a smart strategy and content calendar that forms an effective part of your overall omnichannel customer experience. Accountable goal setting and success measures
Strategies and campaigns hold little worth if they are untracked and unanalysed. We analyse each campaign as it begins and adapt and improve it on the go to build sucess and meet goals.
Demonstrate an ROI
through awareness and traffic
Social media marketing successfully raises brand awareness and increases traffic and leads which illustrate your ROI.
OTHER DIGITAL MARKETING SERVICES WE PROVIDE
Let's Develop a Social Media Strategy
Give us a call, our experienced social media marketing team is here to guide you through the process.