Choose the right words
to elevate your brand,
with copywriting that is
articulate and impactful
We craft clever and engaging copy to build brands and customer loyalty.  Our copywriting services are tailored to your needs- from blogs, newsletters to website content.
The quality of the message is as key as the skill of the messenger. Our talented copywriters craft skillful, content that businesses want and customers understand. At Think Creative our team of copywriting experts pride themselves on delivering exceptional copy.
Effective messaging is core to successful business outcomes. We delve deep into the business we are writing for. We are open communicators who work closely with our clients to ensure we understand the essence of each project. For online content, all of our copywriters are well-versed in the fundamentals of SEO copywriting. They seamlessly intertwine this essential into their digital writing to optimize the effectiveness of their online piece.
The result? We create pertinent messaging that delivers the desired business outcomes.
Think Creative Agency offers blog services powered by insight. Content tailored to your target audience that drives traffic to your website, with information important to your audience. Blog posts are created to capture the essence of your business delivering creative messaging that ignites interaction.
Brand messaging that showcases your voice, purpose, that differentiates your business and communicates with your audience. Through a brand mission statement, value propositions and unique tailored content we can capture a cohesive brand message that makes a difference.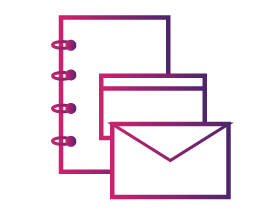 Informing your consumers through visual interest and dissemination of information is the core of Think's Corporate Booklets. Designs that are professional, stylish, and unique successfully impart information. Booklets are designed to be visually appealing, showcasing a design solution that best represents you.
Quality writing, brimming with originality that builds interest for your business. Editorials are engineered with enticing headlines, attracting new clients. However, it is our forensic attention to detail that differentiates our editorials through content that delivers on key messaging and inspires.
Personalized newsletters that enact your clients to action, through catchy and clever headlines and informative subject lines. Content that is individual, fresh, and suited to your company that keeps you at the forefront of your client's mind. Newsletters are professionally written to boost company image.
The fastest way to connect with your clients, providing instant high impact content that makes your brand stand out. We reach your clients over a range of social media platforms with savvy social media messaging tailored for each channel. Whether it's B2B or B2C marketing Think covers a range of different platforms tailoring to your unique brand needs.
Video Scripts that powerfully capture your message with a unique call to action. Scripts created are captivating and dynamic connecting with your audience. We create engaging scripts in creative formats, concepts, and tones that animates your vision from hypothetical to tangible.
Attention-grabbing content that creates a lasting first impression. We create content that reflects your brand's voice, creating an easily accessible copy that gets you noticed. At Think, we understand that the right words sell your products so we write content that enables a lasting online presence.
Convincing copy that connects 
with your audience, creating an
outstanding, lasting impression
that encapsulates your brand vision.
Copywriting Agency Sydney
A selection of our copywriting projects
Reed Gift Fair Brand Identity Refresh
Property Council Academy Copywriting
Felton Industries Marketing Campaign
Waterview Brand Messaging
Need help with crafting content? Give us a call, our experienced copywriting team is here to guide you through the process.