Highlight successes
track leads, calls,
chats with analytics.
Highlight successes track leads, calls, chats with analytics.
Analytics helps you to truly understand your customers and how they journey through your site.
Highlight campaign successes, track leads, calls, live chats and understand detailed customer journeys with analytics.
Unlike classic marketing and advertising which can be hard to accurately report on effectiveness and return on investment, every element of digital marketing can be tracked. This means fully utilising data and analytics are an essential part of a digital marketing strategy so the effectiveness of campaigns and strategies can be understood, improved upon and results can form the basis of new strategies.
With real-time data available, campaigns can be modified and adjusted and new approaches undertaken whilst the campaign is running. The effective use of tracking and analytics will therefore directly impact the success of campaigns.
How can Think Creative help you with analytics?
Reporting is essential and forms an integral part of our digital marketing offerings for all our clients.
There are many tracking tools available for different purposes but we find it is most valuable to have an all-in-one tool to help provide an overview of activities but that allows you to dig deeper into areas of interest.
A favourite amongst clients is Agency Analytics which tracks performance of all digital marketing channels, showcasing traffic, conversions and allows a visual comparison of performance month on month or day on day.
Other popular analytics tools which we can assist clients with are Google Analytics and Tag Manager which we also utilise daily. We can assist your organisation with any kind of configuration, audit or setup of either.
What Does an Analytics Dashboard Look Like?
Your dashboard is customised to suit your individual business needs. It can contain your Google Ads, Social Media Ads, your followers, email campaigns, Organic Search and much much more.  Talk to us today about setting up your analytics dashboard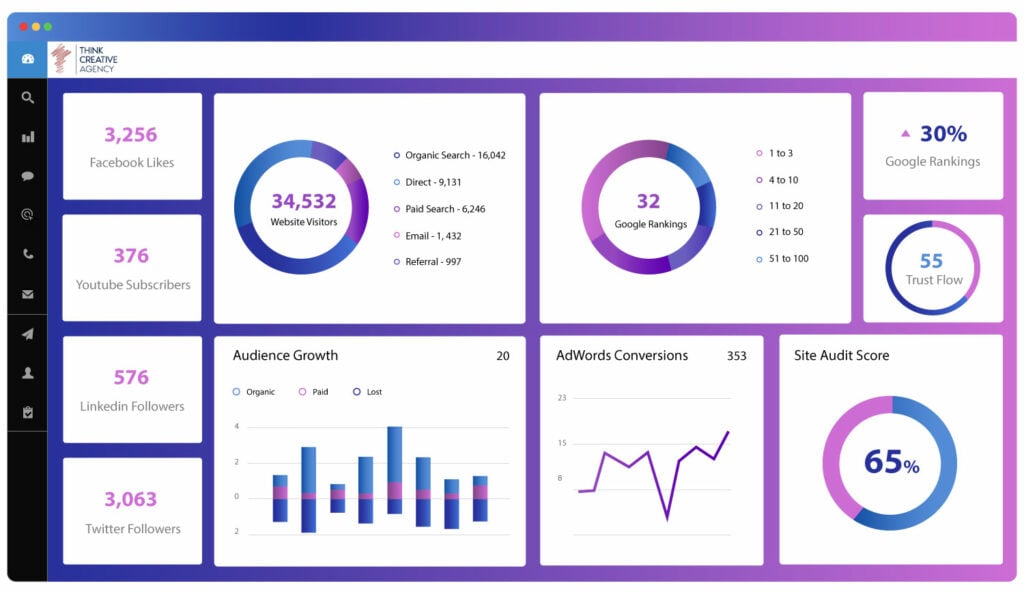 Want to learn more about Analytics?
OTHER DIGITAL MARKETING SERVICES WE PROVIDE
Give us a call, our experienced Analytics team is here to guide you through the process.